---
Posted on: October 24, 2023; Updated on: October 24, 2023
---
The Nexus for Advanced Resilient Energy (SC Nexus) received the U.S. Department of
Commerce's Economic Development Administration's (EDA) designation as one of 31 Regional
Technology and Innovation Hubs (Tech Hubs). The South Carolina Department of Commerce
(S.C. Commerce) submitted the application for designation on behalf of SC Nexus, a
broad consortium of higher education institutions, technical colleges, numerous state
agencies, the Savannah River National Laboratory, economic development alliances,
community organizations, non-profits and private companies, including electric utilities.
The EDA received nearly 400 Tech Hub applications, and of the 31 designations located
across 32 states and Puerto Rico, three of the Tech Hubs, including SC Nexus, are
in the Atlanta Region. As an officially designated Tech Hub, SC Nexus will expand
concerted efforts focusing on Advanced Energy Resiliency, the consortium's selected
technology focus. Additionally, as a designated Tech Hub, SC Nexus will be eligible
to apply for EDA's Phase 2 funding — to leverage and accelerate existing efforts —
available through the bipartisan CHIPS and Science Act of 2022, which authorized $10
billion over five years for the Tech Hubs effort. Phase 2 will award implementation
grants between $40-$70 million each, to at least five designated Tech Hubs, totaling
approximately $500 million.
"Receiving the federal Tech Hubs designation signals to the world that South Carolina
has the necessary assets and infrastructure to create a real impact in the advanced
energy resiliency sector," said Gov. Henry McMaster. "Collaboration has long been
a key component to our success, and we're confident SC Nexus' concerted efforts will
align our state as a leader in advanced energy technology development, contributing
to our national security by bolstering energy independence."
Collectively, SC Nexus' efforts will focus the consortium's Advanced Resilient Energy
technological advancement efforts across a defined geography consisting of the Midlands
and Upstate regions, encompassing the Metropolitan Statistical Areas of Greenville-Anderson,
Spartanburg and Columbia, as well as surrounding counties such as Aiken and Orangeburg.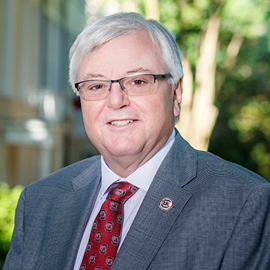 Notably, this area covers more than 60% of the state's distressed counties. Of the
long-term jobs created by SC Nexus' efforts, the consortium has the target for more
than 40% of those jobs to be sourced from underserved and rural communities. While
initial activity will be concentrated within SC Nexus' defined geography, the long-term
impacts will cascade across the region, state and the Southeastern U.S., benefiting
rural and underserved communities.
SC Nexus' work will target innovation and efforts geared toward enhancing energy generation,
distribution and storage, which will result in the:
Development of deployable and exportable electricity technologies that accelerate
manufacturing of energy components and materials, innovate new battery technologies
and efficiently integrate advanced electricity sources into the grid.
Acceleration of high-quality job growth for a diverse workforce, with multiple education
and training pathways through South Carolina's broad education ecosystem.
Closure of infrastructure gaps in rural and distressed communities.
Enhancement of South Carolina's ability to play a key role advancing the country's
competitiveness in the development and integration of globally leading electric-power
technologies.
Achieving a Tech Hubs designation further aligns SC Nexus with the state's ongoing
focus on energy resiliency and the development of advanced energy technology, underscored
by Governor Henry McMaster's Executive Order 2023-18, designed to secure South Carolina's
energy future. Related efforts will complement and reinforce the work of powerSC,
which the executive order established. SC Nexus has garnered support from South Carolina's
entire federal legislative delegation, as well as key leaders from the South Carolina
House and Senate.
A public and private consortium, led by S.C. Commerce, SC Nexus consists of more than
35 members including seven core members. In addition to S.C. Commerce, the initial
core members are:
University of South Carolina
Clemson University
Savannah River National Laboratory
South Carolina Council on Competitiveness
South Carolina State University
SC Technical College System
The Phase 2 funding application window closes Feb. 29. SC Nexus will continue to conduct
consortium meetings to pursue available funding and to fulfill the designation.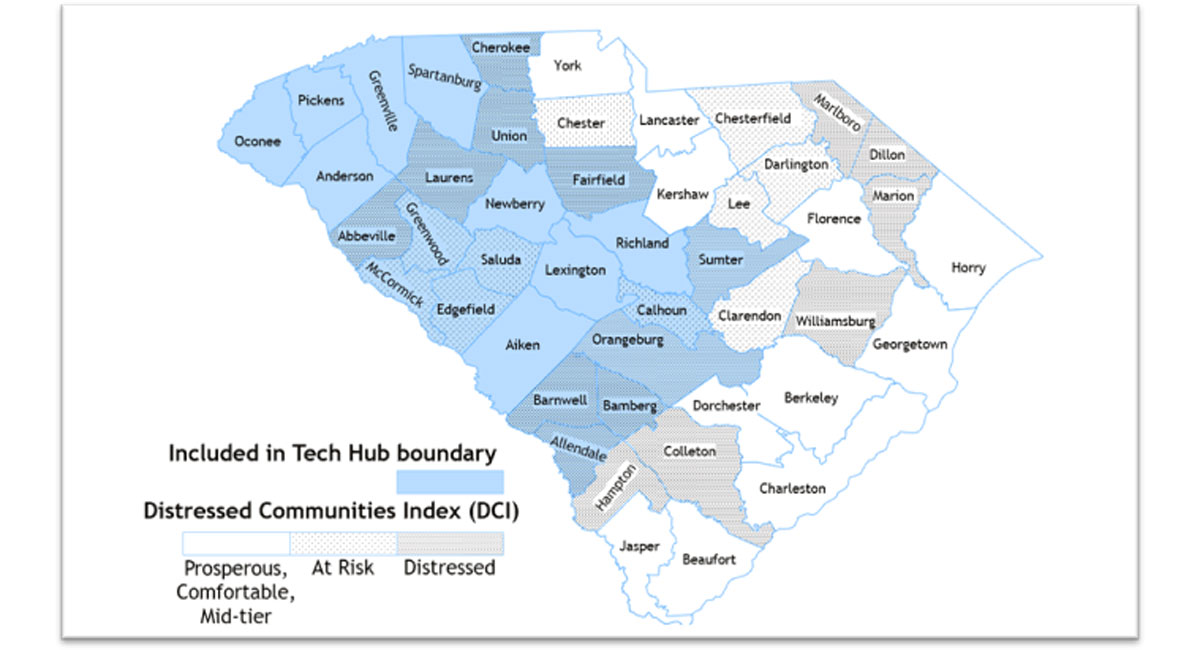 What they're saying
"USC is ready and eager to work with our SC Nexus partners to secure South Carolina's
future as a global leader in the energy industry. The innovative technologies we develop
will ensure the availability, resilience and security of advanced energy resources
for our state, nation and world. Furthermore, by building a robust community of innovators
and entrepreneurs in SC Nexus we will keep our top graduates in South Carolina and
strengthen the state's future workforce."
—University of South Carolina President Michael Amiridis
"Energy independence is a national priority and South Carolina is set to play an important
role in making this happen. South Carolina's Tech Hub designation is testament to
the state's higher education institutions, manufacturing industry, and public-private
partnerships, all of which are essential to the development of our nation's energy
technologies, smart grids, and energy storage. I am thankful for the leadership of
Governor Henry McMaster, the South Carolina Department of Commerce, my colleagues
in the congressional delegation, and the Administration for this opportunity."
—U.S. Sen. Lindsey Graham
"I'm pleased South Carolina has been selected for designation as a Regional Tech Hub
by the Department of Commerce and EDA. This transformative opportunity, made possible
by the Biden-Harris Administration's CHIPS and Science Act, will solidify South Carolina's
position as a leader in technological innovation and help guide us towards a clean
energy future."
—U.S. Rep. James E. Clyburn
"I am grateful that the U.S. Department of Commerce recognized SC Nexus as a designee
for one of the 31 Regional Tech Hubs. This further acknowledges the contributions
of South Carolina as an innovative energy resource."
—U.S. Rep. Joe Wilson
"I'm excited South Carolina's expertise on nuclear and other energy technology is
being rewarded with the classification of SC Nexus as a Tech Hub by the Economic Development
Administration's Regional Technology and Innovation Hubs program. I'm honored to have
helped facilitate continued energy technology development in South Carolina to increase
the resiliency and reliability of America's energy grid while also delivering jobs
for South Carolinians."
—U.S. Rep. Jeff Duncan
"SC Nexus' designation as a Tech Hub by the Economic Development Administration is
a huge win for our state. This designation will allow South Carolina to continue to
lead the way in innovation and emerging technologies while creating jobs in the Greenville
and Spartanburg areas and beyond. I was proud to support SC Nexus' application and
look forward to our state's continued success."
—U.S. Rep. William Timmons
"Now more than ever, it is crucial for South Carolina to lead the way towards American
energy independence. SC Nexus presents an opportunity for South Carolina to become
a trailblazer in innovative and sustainable energy solutions, creating jobs and economic
growth in the process. We look forward to paving the path towards a stronger, more
resilient future for our state and our nation."
—U.S. Rep. Nancy Mace
"South Carolina is on the cutting edge of technological advancements in energy generation,
distribution, and storage. This federal designation as a Regional Technology and Innovation
Hub will strengthen our workforce, enhance American energy security, and advance our
nation's competitiveness in the development of electric-power technologies. Thank
you to Governor McMaster and Secretary Lightsey for their efforts to secure this significant
designation for our state."
—U.S. Rep. Russell Fry
"South Carolina's world-class business community and research institutions, with the
support of collaborative and visionary state leadership, have created the foundation
for our state's long-term energy success. Today's recognition by the U.S. Department
of Commerce's Economic Development Administration as a federally designated Tech Hub
will accelerate SC Nexus' role as a fulcrum for global advanced energy progress. We're
proud of the role South Carolina has and will continue to play in global energy advancements,
and we're optimistic about the subsequent national security and local energy resiliency
impacts for generations to come."
—Secretary of Commerce Harry M. Lightsey III
"I am thrilled that the EDA has designated the state of South Carolina as a Regional
Tech Hub. The SC Nexus Consortium is excited to work together to create bold and innovative
solutions focused on advanced energy and workforce development, elevating our communities
locally, nationally and globally for generations to come. I am excited to see the
progress that will be made with this collaborative effort across the great state of
South Carolina."
—Clemson University President Jim Clements
"SC Nexus is a tremendous opportunity for innovation and commercialization of advanced
manufacturing approaches for the state of SC. SRNL is excited to be a part of this
team, and an asset within the state for strengthening domestic manufacturing and national
energy security."
—Savannah River National Laboratory, Laboratory Director Vahid Majidi
"SC Competes is thrilled for the designation of SC Nexus, designed to build a sustainable
energy ecosystem to position South Carolina as a global model for powering industry
and society for generations to come."
—South Carolina Council on Competitiveness President and CEO Susie Shannon
"South Carolina State University is proud to be a participating partner with SC Nexus.
We look forward to playing a vital role in augmenting a critical pipeline to fortify
South Carolina's workforce. Our signature programs in Nuclear Engineering and Cybersecurity
align with the need for well-trained experts who will help build a powerful and sustainable
energy industry in the Palmetto State. I would like to thank the SC Department of
Commerce, Governor McMaster and Congressman James Clyburn for including SC State in
this historic venture."
—SC State University President Alexander Conyers
"We are pleased to be part of this exciting initiative that's led to South Carolina
being designated a Regional Tech Hub. The SC Technical College System is committed
to channeling the collective strength of our 16 colleges and statewide programs to
create the necessary highly skilled talent pipeline. We look forward to the next phase
of this journey with our partners. For South Carolina, the opportunities are unlimited."
—SC Technical College System President Tim Hardee